ALL PLAYED OUT Cover Reveal + Behind the Scenes!!
First of all, welcome to the first blog on my SHINY NEW WEBSITE!! We've been working on this for awhile, and I'm super pleased with how it turned out. Feel free to click around, and be sure to check back often. We're a work in progress, but we've got some fun plans for this place. 
Now let's get down to business….TO DEFEAT THE HUNS!
(Anyone? Just me? Anyway….)
Today, I'm REALLY FREAKING EXCITED about ALL PLAYED OUT!!
ALL PLAYED OUT is the third book in the Rusk University series. It's a New Adult Contemporary Romance novel published by William Morrow (an imprint of Harper Collins) and it's scheduled to release on May 12, 2015.

ALL PLAYED OUT
by Cora Carmack
Available May 12, 2015
First person in her family to go to college? CHECK.
Straight A's? CHECK.
On track to graduate early? CHECK.
Social life? …..yeah, about that….
With just a few weeks until she graduates, Antonella DeLuca's beginning to worry that maybe she hasn't had the full college experience. (Okay… Scratch that. She knows she hasn't had the full college experience).
So Nell does a smart, dedicated girl like herself does best. She makes a "to do" list of normal college activities.
Item #1? Hook up with a jock.
Rusk University wide receiver Mateo Torres practically wrote the playbook for normal college living. When he's not on the field, he excels at partying, girls, and more partying. As long as he keeps things light and easy, it's impossible to get hurt… again. But something about the quiet, shy, sexy-as-hell Nell gets under his skin, and when he learns about her list, he makes it his mission to help her complete it.
Torres is the definition of confident (And sexy. And wild), and he opens up a side of Nell that she's never known.  But as they begin to check off each crazy, exciting, *normal* item, Nell finds that her frivolous list leads to something more serious than she bargained for. And while Torres is used to taking risks on the field, he has to decide if he's willing to take the chance when it's more than just a game.
Together they will have to decide if what they have is just part of the experiment or a chance at something real.
Pre-order ALL PLAYED OUT on Amazon, Barnes & Noble, or iBooks. Plus you can add it on Goodreads!
Now, I know what you're thinking…. You want it noooow1
And I totally get it! I want to share Nell and Torres' story with you guys SOOOOOOOOO badly – but unfortunately, I can't quite yet. But I have the next best thing – the cover!!
But first… a behind the scenes look!
For the first time in NINE books (holy crap! NINE!), I got to do something special with APO. My publisher organized a cover shoot, and not only did I get to pick the models, but I got to GO!
Our photographer was the incredible Kelsey Kukal-Keeton of
K Keeton Designs
, and we did the shoot near where she lives in Springfield, MO. She managed to get us some time inside a fraternity loft from a local university (apparently, they can't party in their house in campus, so they needed a party apartment downtown. Lolforever).
Did I mention that the shoot was the day after Halloween? YEAHHH. And that we arranged for them to just leave the apartment how it had been after the party because we wanted that authentic post-frat party feel?  Yeaaaaah. I might have spotted a little vomit on the couch, and then didn't sit down for the rest of the time I was there.
But anyway… we arrived at around 10 AM and one of the fraternity guys came downstairs to let us in. From the moment we got into the stairwell, it smelled overwhelmingly of beer and poor life choices. In fact, there were several empty beer cans on the ground as we climbed a few flights of stairs up to where we'd be shooting.
It was decorated like you might expect a fraternity loft to be. Beer signs. A huge beer pong table hung by chains from the ceiling. And a giant ass American flag. #MERICA. There were half-full beer cans on a few surfaces. A nearly empty keg in the corner. And those massive gray outdoor trashcans. Three of them. Full of empty cans. They even had a fog machine, guys. This was serious.
Enter our models: Autumn and Isaiah.
They were both gorgeous. And so SUPER nice. And also made uncomfortable by our surroundings.
So, left alone to our own devices, I did some snooping in an attempt to find some cleaning supplies to make the area we'd be shooting a little more… hospitable. Unfortunately, the only cleaning supply they had on hand was WINDEX.
There was one point while we were setting up that a half naked dude came out of the back hallway in search of a phone he'd lost the night before.  We all helped him search. Well… everyone else helped while I tried not to laugh and took terrible, blurry, surreptitious photos.
Later, a door opened in the back hallway and 2 dude and like 5 girls made the walk of shame. I was too slow to get pictures of that.
*curses the heavens*
But finally, we got down to business.
Kelsey was great, as was her husband who assisted her. And the models totally rocked it. I am not even exaggerating when I say that I would have been happy to have 95% of the pictures as my cover. They did sweet and sexy and SEXIER.
Here's a few awesome outtakes that were some of our favorites, but we didn't use in the end.

*fans self*
But then there was a point toward the end of the shoot where we started taking photos that might be good for the teaser graphics we're all so fond of. And since Torres is freaking hilarious (Gah, I love him so much), I figured we'd have at least one teaser with a funny one liner. So, we tried for some shots where they were smiling and laughing together. It took a little bit to get a decent shot. (IT'S REALLY HARD TO LAUGH ON COMMAND AND NOT LOOK LIKE A DOUCHE). But eventually we all started laughing about how bad they were at laughing, and Kelsey snapped this shot that was just so genuine and cute. It was only supposed to be for a teaser graphic.
But when I saw it I fell in love. This shot IS Torres and Nell.
We could have gone with any one of the gorgeous pictures above and had a super hot, sexy cover. And it would have been great. Because Torres is pretty freaking sexy (There's this scene in a library, and another scene in his truck, and another– I digress).
But the smexy is not what sets this book apart. It's the characters. They're hilarious. And vibrant. And awkward.
And this cover is all of those things.
So without further ado… I present to you, the cover for All Played Out!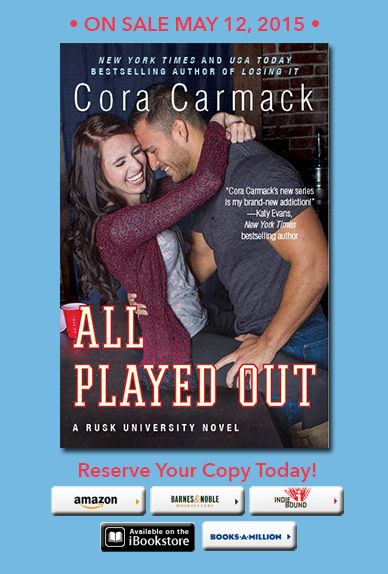 Pre-order ALL PLAYED OUT on Amazon, Barnes & Noble, or iBooks. Plus you can add it on Goodreads!
And just in case this cover wasn't exciting enough, check out this other tidbit of Rusk University news….
Your eyes are NOT deceiving you! ALL LINED UP and ALL BROKE DOWN are on sale for only 99 CENTS EACH!! That's crazy town! So it's a great time to start the series if you haven't, or to share it with a friend!
All Lined Up: Amazon, Barnes&Noble, iBooks
All Broke Down: Amazon, Barnes&Noble, iBooks
AND… AND… AND…
You might be aware of a new book I released in December. A sexy NA paranormal called INSPIRE.
And it, too, is on sale for $.99 for a limited time only!
Even if you've not read paranormal before, I hope you'll give it a shot. At it's core, it's still very much so an NA romance. In fact, there are whole sections of the book that don't feel even remotely paranormal. It's got all the angst and real life struggle of NA with a little extra oomph. And Wilder gives Silas Moore a run for his money in the sexy book boyfriend department. 😉
And that's the last of my announcements. I want to give one final gigantic thanks to Kelsey of K Keeton Designs and the Harper design team for being the absolute best.
And for sticking around, have a little more Torres. 🙂
To make sure you never miss important news about releases and sales and special content, sign up for my newsletter.